We left home early in the morning thinking that mommy's class today would end by 1330hrs but did not end until 1400hrs. We were suppose to be back home by 1400hrs to send Uncle David to the airport by 1445hrs. Since Grandpa said that he can send, we drove to Jalan Ipoh to buy the remainder fittings for the bathroom, we bought 2 more basins, confirmed the marble for the table top and bought the mosaic for my bathroom as well.
Master Bedroom Basin,
1st Floor Bathroom or my bathroom,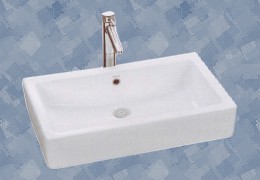 We drove back to the new house and dropped of the basin before driving back home. The master bathroom marbles are properly installed and also put up part of the tiles in the ground floor bathroom. Another has also been made to install the basin we bought yesterday as well. If everything goes on schedule, it should be done by next week.
Lunch : Chee Cheong Fun @ Jalan Ipoh
Dinner : Pan Noodle
No photo were taken today,
Today's Movie -